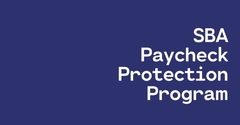 The Paycheck Protection Program ("PPP") authorizes up to $350 billion in forgivable loans to small businesses to pay their employees during the COVID-19 crisis.
This program pays you to keep your employees working. Loan forgiveness means this money supports your payroll at no cost to your business!
It's calculated based on 2019 average monthly payroll times 2.5.
If your 2019 annual payroll was $100,000 / 12 = $8,333 * 2.5 = $20,833 of FREE payroll support.
Every Restorer needs to take advantage of this program right NOW!
You must apply through an SBA approved lender, so start with your bank to see if they are SBA approved.
For more information and an application form go to https://www.sba.gov/funding-programs/loans/coronavirus-relief-options/paycheck-protection-program-ppp
Do it today because once the $350 billion runs out, the program is over.
What can you use these loans for?
Payroll costs, including benefits;
Interest on mortgage obligations, incurred before February 15, 2020;
Rent, under lease agreements in force before February 15, 2020; and
Utilities, for which service began before February 15, 2020.
Stay safe, and good luck!