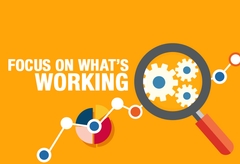 In the age of Coronavirus …
SCHEDULED SERVICES are NOT working
Carpet cleaning
Tile & Grout
Duct Cleaning
Remodeling
If it's discretionary work, it's NOT working.
FACE TO FACE MARKETING is NOT working
No agent marketing
No plumber marketing
No property manager marketing
No face to face marketing
If you don't know the person well enough to call them on the phone, this marketing is off-limits for the time being.
WHAT IS WORKING?
TPAs are working 24/7/365
Rebuild is working and is the biggest money generator in our industry, bar none!
These work all day, every day.
Here's the reason why ...
I'm a TPA man because it works!
I'm a rebuild man because it works!
They worked for me as an owner.
They work for others all the time.
They could just as well work for you too!